Turkey Trio 6 Pack
Turkey Trio 6 Pack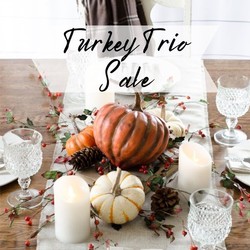 $100 6 bottles + $15 Shipping
2020 El Dorado Pinot Noir (2 Bottles)
The high elevation means cooler days throughout the growing season at our Georgetown Vineyard, so this Pinot Noir ripens slowly, developing and retaining its varietal and terroir driven characteristics. Pair with Roast Duck with Cherry Sauce, or Salmon with Mustard and Brown Sugar Glaze.
Sierra Foothills Rose (2 Bottles)
The blush colored hue in this varietal comes from the blending of our Mourvedre and Zinfandel grapes. Crisp and dry and full of berry flavor. A very versatile wine complimenting a variety of dishes from stuffing, to sweet potatoes, to turkey.
Grand Cuvée Brut California Sparkling Wine (2 Bottles)
This fresh sparkling wine has pear and pineapple notes, followed by flavors of crisp green apple and a toasty nut finish. A fine accompaniment to a Triple Cream Brie on a Cheese Platter with Fresh or Dried Fruits. Make Thanksgiving an extra special occasion!
Product Reviews